TICKET
A downloadable game for Windows and macOS
The newest, most spectacular innovation in audio-visual enchantment.
In a world where time is running out, where angels, are now demons, and vice versa, and human emotion is no longer a valid format, there is one entity ready to put his FOOT down, and say NO. Play as a lonely timid left foot, determined to make his mark on a world that's ever so crumbling around him. Make your way through exhilirated, magnificent and enchanting landscapes. Move with shoe, live with shoe, breathe with shoe. Be. Shoe.
Traverse through a dense forest, examine the gems through the eyes of your feet, and allow the sun rays to reflect through the intricate cuts of the blue, red, and even yellow precious stones. Ever wondered what it would be like to walk on the ceiling? Gravity reversed? Fish with legs? Or how about owning your own horse with a personality more extatic and enchantingly realistic than any class clown or surf shop employee? It can all be done with TICKET. In TICKET, every one is a millionaire. you will never be as rich in real life, as you can be in the game-world, both in monetary and spiritual terms.
This game features astonishingly realisting high definition real-world 4D engines, bringing what you see around you every day, into a hyper realistic cyber-universe, with graphics so real, your brain could never hope to comprehend the full extent of mind numbing beauty this game exudes.
The game's soundtrack is a masterful manipulation of vibrations, intricately designed to elicit the most pure and joyful of emotions when entering the brain through ear holes. 30 works of sonic art guide you through Shoe's troubles and trials and tribulations, elevating your sense of reality to a higher plain as you jump, hop, skip and jump, bounce and spike your way through the world of TICKET.
YES THIS IS AVAILABLE ON STEAM HERE
buy official TICKET merch HERE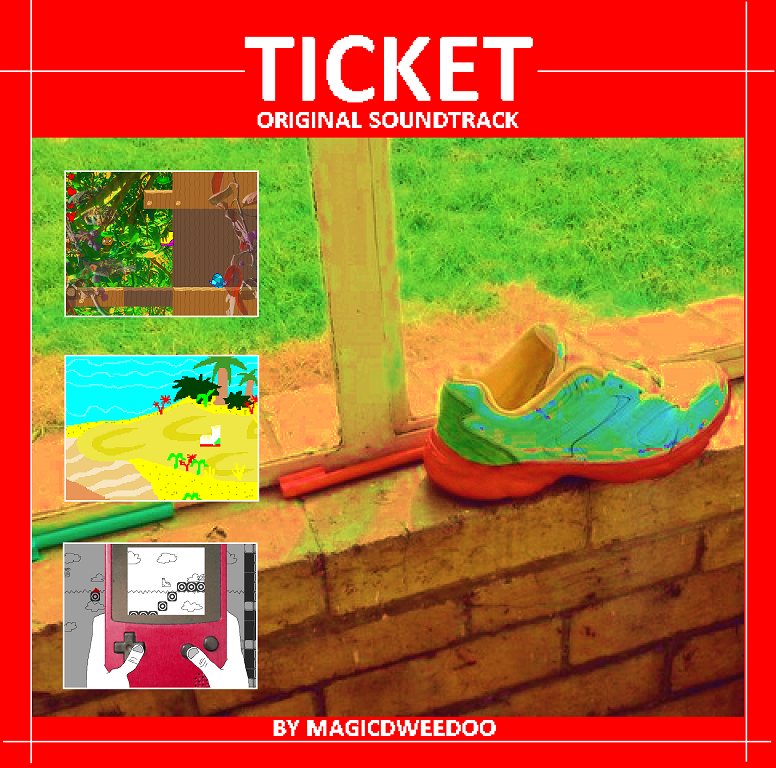 Purchase
In order to download this game you must purchase it at or above the minimum price of $6 USD. You will get access to the following files:
if you pay $8 USD or more
Comments
Log in with itch.io to leave a comment.
I haven't bought it yet, but this game looks sick.
The game doesn't work. Just opens Steam page in Steam app.
hey garbas - sorry about this - email dweedoos@hotmail.com and i'll send you a steam key.
Sent an email from under the domain of @suomi24.fi, concerning the same issue as the other 2 recent users. I would really like to voice my appreciation for this game as well!

Hey IwantTICKET (lol) sorry about that - I've sent you a steam key for the time being. dwee
Sorry to bother you. I also had issues getting my Itch.io Ticket copy to work. It opens the steam page when running steam and launches steam when steam is not running. I sent you an email from turbomemeemail@gmail.com about it aswell.
the windows download for this game doesn't work, running it opens the steam page for the game
Hmm sorry about this! I will look into it. For the time being please send an email to dweedoos@hotmail.com and I can send you a Steam key.
This is the best game of 2016. I will shill for it until the end of time.
This game is really good.